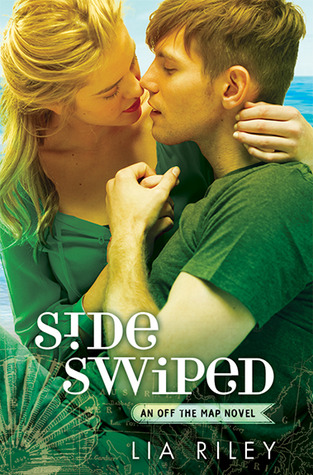 Sideswiped (Off the Map #2)
NA, Contemporary, Romance
It was only meant to last the summer . . .

Talia Stolfi has seen more than her share of loss in her twenty-one years. But then fate brought her Bran Lockhart, and her dark world was suddenly and spectacularly illuminated. So if being with Bran means leaving her colorless NorCal life for rugged and wild Australia, then that's what she'll do. But as much as Talia longs to give herself over completely to a new beginning, the fears of her past are still lurking in the shadows.

Bran Lockhart knows that living without the beautiful girl who stole his heart will be torment, so he'll take whatever time with her he can. But even though she has packed up her life in California and is back in his arms for the time being, she can't stay forever. And the remaining time they have together is ticking by way too fast. Though fate seems determined to tear them apart, they won't give up without a fight—because while time may have limits, their love is infinite . . .
Actual rating is 3.5
Sideswiped picks up where Upside Down left off.
Bran and Talia's love grows much more than what they intended for it to be. And now, they're facing separation that would leave them either heartache or make their love stronger.
This time, the book focuses on Talia and Bran as individuals and not just as a part of a couple.
The flow of the story is quite slow. We see their love grow and endure struggle from time to time. The challenges that life presented to both of them had an impact on their relationship. It made them think not only of their status but also of who they are as persons. The book showed the growth of the characters and how they came to the conclusion they had for their relationship and what they want to do for themselves first.
Sideswiped is a good read despite its slow pace. In many ways, its pacing shows how the characters came to grow and how they came upon the decisions they made.
I
Lia Riley writes offbeat romance. After studying at the University of Montana-Missoula, she scoured the world armed only with a backpack, overconfidence and a terrible sense of direction. She counts shooting vodka with a Ukranian mechanic in Antarctica, sipping yerba mate with gauchos in Chile and swilling XXXX with stationhands in Outback Australia among her accomplishments.

A British literature fanatic at heart, Lia considers Mr. Darcy and Edward Rochester as her fictional boyfriends. Her very patient husband doesn't mind. Much. When not torturing heroes (because c'mon, who doesn't love a good tortured hero?), Lia herds unruly chickens, camps, beach combs, daydreams about as-of-yet unwritten books, wades through a mile-high TBR pile and schemes yet another trip. Right now, Icelandic hot springs and Scottish castles sound pretty sweet.

She and her family live in Northern California.
Author links:
Website
ll Twitter

ll

Goodreads