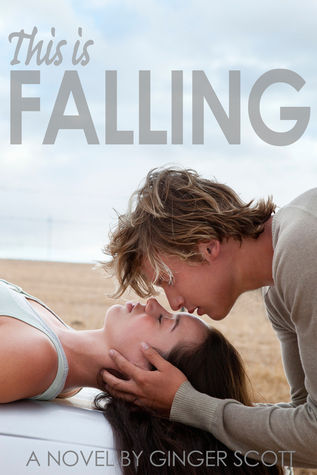 This is Falling (Falling #1)
Ginger Scott
First, I had to remember how to breathe. Then, I had to learn how to survive. Two years, three months and sixteen days had passed since I was the Rowe Stanton from before, since tragedy stole my youth and my heart went along with it.

When I left for college, I put a thousand miles between my future and my past. I'd made a choice—I was going to cross back to the other side, to live with the living. I just didn't know how.

And then I met Nate Preeter.

An All-American baseball player, Nate wasn't supposed to notice a ghost-of-a-girl like me. But he did. He shouldn't want to know my name. But he did. And when he learned my secret and saw the scars it left behind, he was supposed to run. But he didn't.

My heart was dead, and I was never supposed to belong to anyone. But Nate Preeter had me feeling, and he made me want to be his. He showed me everything I was missing.

And then he showed me how to fall.

*This is a standalone in a three-part series that will focus on different characters. Each book can be read on its own.
My heart is bursting with so much love for this book. I'm having a hard time organizing my thoughts and feelings as they are quite strong. I have rarely felt strongly for a book except if it's one with a tragic ending as I tend to inhale those kinds of books. But this book doesn't have that tragic ending; there was just a tragic occurrence in one of the character's life and it's up to her if she'd let it stop her or make her find the strength to move forward.
First, I just have to say that I'm in love with Nate Preeter. Who wouldn't want a guy whose good to his brother, loves his parents so much and would definitely love to meet your parents? Oh, and did I mention that he's not one of those guys who fool around with a lot of girls. He's a one-woman-forever guy. Heck, can I please meet someone like him? He's just perfect! There were times that I felt he was too perfect but he balances it when his "being a guy" slips through (Read the book to know what I'm talking about!).
Also, I love Rowe. Rowe is such a spunky girl but has wounds that are embedded too deep. Rowe has been through a lot yet she pushes herself to take a step forward. She tries to let go of her fears even if it's piece by piece. She forms new friends, hangs out with them and eventually falls for someone. I love that it's a gradual thing with her as she doesn't immediately come out of the shell she has made for herself. She taps on it, focuses on its cracks and taps on them slowly, letting it crack more eventually breaking huge pieces of it.
I also like Ty, Nate's brother. He's the type of brother one would definitely love to have. He can be crass and direct but that's because he loves you. He can also push you to what you want and would support you through it.
This is Falling is about facing yourself, healing the wounds deep inside and forging relationships strong enough to get you through whatever you're going through.
Ginger Scott is a writer and journalist from Peoria, Arizona. She is the author of four young and new adult romances, with her fifth title, This Is Falling, set to release in late August 2014.

Scott has been writing and editing for newspapers, magazines and blogs for more than 15 years. She has told the stories of Olympians, politicians, actors, scientists, cowboys, criminals and towns. For more on her and her work, visit her website at http://www.littlemisswrite.com.

When she's not writing, the odds are high that she's somewhere near a baseball diamond, either watching her son field pop flies like Bryce Harper or cheering on her favorite baseball team, the Arizona Diamondbacks. Scott is married to her college sweetheart whom she met at ASU (fork 'em, Devils).
Author links: Website

ll

Twitter