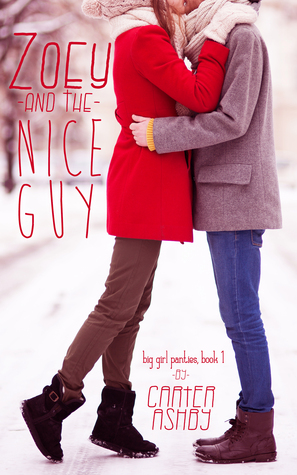 Zoey and the Nice Guy (Big Girl Panties #1)
NA, Romance, Contemporary
For Zoey Odell, the definition of family is her two best friends, Maya and Addy. So when Maya makes the decision to leave her abusive husband, Zoey is only too happy to lavish her with support and a temporary home. Unfortunately, taking in her best friend also means seeing more of that no good do-gooder, Kellen Bradley.

For Kellen, the definition of family has just been shattered. After finding out that his brother is an abusive monster, he can't help but question himself and his parents. The one thing he knows for certain is that he'll do anything to take care of his sister-in-law and her children. For them, he would walk into gunfire, pass through the flames of hell…even go head-to-head with Zoey Odell.

Zoey has no intention of letting him in, but Kellen is done taking her crap. Life has just gotten real and he's more than ready to shed his nice-guy image. When he finally stands up to her, Zoey starts seeing him in a new light. As the attraction turns mutual, she finds it more and more difficult to hide behind her carefully formed walls. And Kellen is finding himself more and more driven to tear those walls down.
When you see even just the summaries of books today, most of them, particularly those of the NA and Contemporary category, have something in common: the Alpha Male. Women of all ages hoard these books and they begin dreaming about being with a dominating male. Good thing for these types of book gents, there are book ladies who can show them a thing or two on how ladies can be tough too. One excellent example is Zoey Odell.
Zoey is one of the toughest characters that I ever got a chance to read about. She's the type of person you'd totally want to bring when you want protection from strangers. She's fierce, loyal and only shows her soft side to her best and closest friends. She is someone you'd definitely don't want to mess up with. And yet, there's more to her than just the evil vibe she gives and Kellen wants to learn more about that side of hers she never really shows to a lot of people.
From the moment she met Kellen, she truly despised him because of his connection to Maya's abusive husband. Like a mama bear, she protects those closest to her and that is her best friends. That's why, getting past through her and letting another person into their lives is no easy feat. That's why, it's good to see the progression between Kellen and Zoey. He worked hard to earn not only her trust but also her love and loyalty. The story showed how Zoey got to eventually acknowledge Kellen and let him into her heart, but not without a lot of bickering and punches and kicks thrown first.
If you're a fan of buttkicking female protagonists who eventually shows that there is a different side to them than what they usually show others, then go pick this book. It's not insta-love; it's the kind of love that one worked hard for.